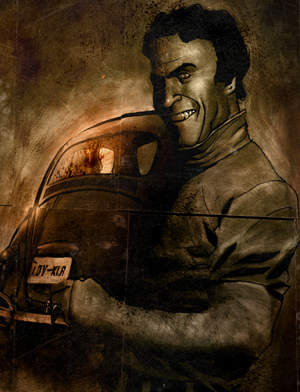 THE BEGINNING OF TED BUNDY

Article BY BILL DIXON - Art by Jeffery Cox
---
"I grew up in a wonderful home, with two dedicated and loving parents and one of five brothers and sisters." These were some of Ted Bundy's last words before his execution.
Bundy was executed at 7:06 a.m. local time on January 24, 1989, by electric chair at Florida State Prison in Starke, Florida. Ted Bundy was born Theodore Robert Cowell to Eleanor Louise Cowell on November 24, 1946, at the Elizabeth Lund Home for Unwed Mothers in Burlington, Vermont. Eleanor was just 22-years-old at the time of his birth. This is where the mystery of Ted Bundy began.
The true identity of his maternal father still remains unsolved. Ted's birth certificate lists "Lloyd Marshall" as his father. Eleanor changed her story on the father of Ted to that of being seduced by an Air Force veteran by the name of "Jack Worthington". This may have been some think, because Lloyd Marshall wanted nothing to do with a child born out of wedlock.
Once brought home Ted's life took an unexpected turn. Eleanor's parents Samuel and Eleanor Cowell were strict Methodists, and out of fear of their daughter being victim to social stigmatization for raising a bastard child would claim him as their own son, by pretending to have adopted Ted, leaving him to believe his mother was an older sister. It has also been said by many looking for some rhyme or reason by validate his later actions, and by some who have been biographers that, Samuel Cowell may have fathered Ted out of an incestuous relationship with Eleanor.
Ted would be quoted as loving his grandfather, which he thought was his father, but later described him as having a mild taste for pornography and being at time quick-tempered. In later interviews Ted would also claim his grandfather had hated African-Americans, Italians, Catholics, and Jews. Beat the family dog and swung neighborhood cats by their tails. Little is known about Lloyd Marshall than his possible birth year being 1916 and being born in rural Massachusetts. Even less is known of Jack Worthington, which Ted's family believes is a story Eleanor had fabricated, furthering the belief that Samuel Cowell could in fact be Ted's real father.
When Ted was 3 years old he had an encounter with his 15 year old aunt. Ted had lifted the sheet of her bed as she slept and placed three knives, each facing her, on her bed. In a later interview she was quoted as saying: "He just stood there and grinned. I shooed him out of the room and took the implements back down to the kitchen and told my mother about it. I remember thinking at the time that I was the only one who thought it was strange. Nobody did anything." Could this have been a warning of things to come?
In 1950 his mother, who still claimed to be an older sister, moved herself and her son to the West Coast, settling in Tacoma, Washington. Once there, she changed Ted's name from Cowell establishing him as Theodore Robert Nelson. The reason she changed surnames is uncertain. In 1951, a year after their move, Eleanor, who was employed as a church secretary, met Johnny Culpepper Bundy at an adult singles night held at Tacoma's First Methodist Church. On May 19th of that year, the couple was married, and soon after Johnny accepted and adopted Ted, legally changing his last name to "Bundy".
Ted and his step-father had never formed a close bond. Johnny attempted to include him on father-son activities. These attempts were met unsuccessfully and Ted and he never struck an emotional attachment. It's said that Ted became increasingly uncomfortable with these attempts and ultimately preferred to be left alone. Eleanor was still deeply devoted to him. It was around this time Ted started wondering and became confused about his relationship between them. He reportedly alternately referred to Eleanor as his mother and his sister.
Nobody is certain of when Ted unraveled the mystery of his birth because he gave several conflicting stories about it. He was ashamed of his family's lower-class status, once stating he was embarrassed to be seen in his family car a Rambler station wagon. He fantasized as a child of being adopted by then TV cowboy Roy Rogers. Ted envied and wished to live with his great uncle Jack who was a university music professor in Tacoma and had a grand piano in his home, a sign of wealth and social dominance he craved.
Ted slept in bed with his mother and stepfather until they put a stop to it on his 8th birthday. He felt threatened by the birth of his four brothers and sisters. Nothing indicates that Ted grew up in anything other than a nurturing and loving family, or that he was treated differently from his siblings. Although Ted's mother expressed that as her first born she was especially attentive to Ted. His stepfather was said to have had a short temper. There were no claims that Ted was abused by his stepfather despite his tempter.
Classmates from public school often remembered Ted as a popular, intelligent, happy child with a great academic record, and many friends. Once Ted hit high school he is said to have lost confidence and become somewhat socially retarded, he would later state. He was no longer as popular as he was in junior high and often had trouble not only with girls but meeting new people overall. He felt alienated from his junior high friends as if they had somehow moved on socially and he had been left behind. Having felt he has not learned the appropriate social behaviors he wondered if perhaps there was something wrong with him genetically. He claimed there were no role models at home to help him develop these skills.
In spring of 1966 Ted met who would be the love of his life Stephanie Brooks. She was ahead of him in school at the University of Washington, elegant, tall, and beautiful, with long dark hair parted down the middle, something Ted's victims would share. She was from a wealthy San Francisco family, the kind of family Ted wished he were from and aspired to be in. Ted went to great lengths to impress and romance her. Once borrowing a friend's car, preparing a gourmet meal with crystal and china plates and silverware.
For his second year of university Ted left the University of Puget Sound and transferred to University of Washington to be closer to her. In spring of 1967 Stephanie graduated from UW and had begun to grow tired of Ted. They remained a couple long enough for Bundy to transfer again, this time to Stanford University in the fall of 1968. Once there the relationship grew increasingly sour until Stephanie broke it off. Ted's tendency toward manipulation had ruined the relationship. Bundy soon dropped out of Stanford, reportedly devastated.
Ted never got over the break-up. Nothing seemed to hold his interest he eventually dropped out, depressed and upset over the break-up. He managed to stay in touch with her by writing Stephanie after she returned to California; she remained to seem uninterested in getting back together with Ted. She was an obsession that would span his life and spark the events that would shock the world.