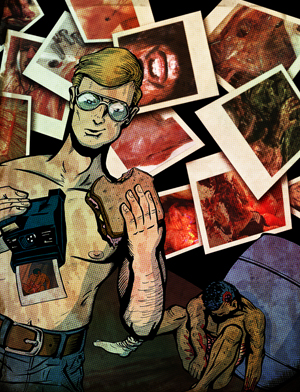 SERIAL KILLERS IN OHIO

Article BY ANDY EVANS - Art by URIEL A. DURAN
---
Ohio.  The heartland of it all, home to the first ever professional baseball and football teams as well as the Rock and Roll Hall of Fame. 
Ohio. A state that has bore the most U.S. Presidents (eight) and some would say most proudly the home of THE Ohio State University.  Although the school is seeing its share of scandal right now, it pales in comparison to some of the more scandalous atrocities that have occurred within its heart-shaped boundaries throughout the years.
Ohio.  Home to some of the most notorious serial killers that have ever prowled our countryside.
OK, so we all know who Charles Manson and Jeffrey Dahmer are but did you know that both are connected to the state?  Manson was born in Cincinnati and spent the first several years of his life there.  He eventually moved to California and became synonymous with the term serial killer because he was able to coerce six of his followers to savagely bound, gag, slash and stab eight people to death in what has now come to be known as the Tate-LaBianca murders.
Jeffrey Dahmer, on the other hand, was born in Wisconsin but raised in Bath, Ohio and at the age of 18 committed his first murder there.  After that murder, Dahmer attended Ohio State but failed out after only one quarter.  It's rumored that the dormitory he stayed in is haunted but university officials to this day will not release the specifics on where he stayed or what classes he took.
Dahmer, though, wasn't the only serial killer to inhabit the hallowed hallways of Ohio State.  Michael Swango, also known as the Doctor of Death, began his bloodless rampage as an intern for the university's hospital.
Growing up, Joseph Michael Swango was looked at as an odd-duck.  Forgoing the culture of the 1960's, he opted for short haircuts while wearing neatly pressed shirts and suit coats.  After graduating valedictorian of his high school in 1972 for reasons only known to him, he changed.  The shirts and suits were replaced with military fatigues and a penchant for death and violence.  He collected newspaper articles of disasters or stories on people being murdered or maimed.  He entered the Marines after his second year in college but was honorably discharged after four years.  At that point, Swango focused his sights on becoming a doctor.  He graduated from Southern Illinois University in 1983 but did so leaving behind a somewhat unsavory reputation with fellow medical practitioners.  Nevertheless, he had already been accepted at Ohio State's Medical Center for a year-long internship.
It didn't take long for co-workers to pick up on Swango's strange attitude and proclivity towards death and it was at this point that he started his journey on being a serial killer.
On February 7, 1984 patient Ruth Barrick would suffer symptoms of writhing in pain and unable to breathe, symptoms she had experienced but one week before.  Doctors were unable to save her life.  Swango stood in her room throughout their efforts, supposedly unmoved but with a slight maniacal grin on his face the whole time.  When one nurse tried giving mouth-to-mouth resuscitation to the patient, Swango got a sickened look on his face and commented, "That's so disgusting."
All-in-all during Swango's time at the OSU Medical Center, 10 people died in the one year that he interned there and of those that died, most were healthy and in there for only simple operations.  Unfortunately hospital staff and administrators were armed with only mere feelings and suspicions on Swango's behavior instead of hardcore evidence.  But the evidence they did have on him, which was poor performance, was enough for them to decide not to extend him a permanent job offer.
Michael Swango continued down his wreckless path through his home state of Illinois, then Virginia, South Dakota and eventually he even moved on to Africa.  Some believe that his death toll got as high as around 60.  Throughout his medical misgivings, the Federal Government built a case against him and eventually arrested him for fraud.  While in jail, they gathered more evidence against him and subsequently charged him with three murders in New York and the death of Cynthia McGee at the OSU Medical Center.  He was convicted of all four and is currently serving his time at a federal prison in Colorado for the rest of his life.
Then there's the case of another member of the medical profession who turned to the dark side when it came to helping patients.  Donald Harvey, "The Angel of Death", by all accounts of friends and family was a normal guy who was somewhat of a loner but not the monster he eventually came to be.  In a 1987 interview with Cincinnati Post reporter Nadine Louthan, his mother said of her son, "He was a good boy."
But Harvey had a monster inside of him that he couldn't contain any longer.  Early in 1971 while a nurse at a hospital in Kentucky he finally quenched his appetite for murder and never looked back.  He returned to Ohio in 1975 and continued his madness until his capture in 1987.  His style was random.  A wet towel over the mouth and nose.  Injecting cyanide into the backside of patients or putting rat poison into their food were just a few methods used.  In August of 1987, he sat down with investigators and began to sprawl out a timeline of his murder spree.  He started out admitting to as many as 33 victims but within a couple hours the number had grown to 70.  Ultimately he was convicted on 30 counts of capital murder in the state of Ohio and is serving four consecutive 20-to-life sentences as well as three mandatory life sentences.
Thomas Dillon, also known as The Hunter of Humans, was a Stark County native who was convicted in 1993 in five hunters' deaths in and around the foothills of the Appalachian Mountains from 1989 to 1992.  Dillon would get into his truck and travel around, sometimes up to a couple hundred miles in one day, randomly shooting at stop signs or electrical boxes just so he could add another notch onto the calendar that he kept tallies on.  Killing animals, shooting street lights, sex with girls were all things he liked to keep track of and killing people were his favorite marks.
Richard Fry, a former friend of Dillon's, was ultimately the piece that the FBI needed to nail him down.  The friend talked of Dillon's love of guns and killing animals.  In a 1993 interview with the Akron Beacon Journal, Fry remembers a haunting conversation with Dillon.  "He asked me if I thought he could, or had, killed somebody," said Fry, who is now deceased. "The way he looked at me chilled my blood. I thought he had a secret to tell. It was the look on his face and in his eyes."  Dillon is serving a sentence of 150 years to life.  His first parole hearing is in April of 2158.
But of all the cases and psychopaths that have haunted the grounds of Ohio, none have been more baffling or chilling than that of the Torso Killer of Cleveland.  Also known as the Mad Butcher of Kingsbury Run, some attribute the person responsible as being America's first serial killer. 
The killer stymied authorities in the Kingsbury Run section of Cleveland beginning with the finding of the first two victims on September 23, 1935.  Their decapitated bodies were found next to each other, washed of all evidence, drained of all blood and their genitals were mutilated.  During an almost exact three-year run, more bodies were found without heads.  Genitals mutilated so bad that sometimes it was tough to initially distinguish the sex of a victim.  The bodies were cut with such precision, though, that investigators felt that the killer was a doctor or surgeon.
Most killers at some point lose their composure or are too cocky for their own good and get caught, but not this one.  Not even one of the greatest law officers of all time could officially bring the case to a close.  After his bout with Al Capone, Eliot Ness was brought on as Cleveland's Public Safety Director shortly before the murders began.  He had a favorite suspect but was never able to officially pin any solid evidence on him.
The official body count of the Butcher stands at 12, seven men and five women.  In 1947 the infamous Black Dahlia murder occurred and some of the similarities between her murder and those of Kingsbury Run were striking, leading some people to think that the murderer is one and the same.  Although the list that stood at over 500 at one point was narrowed down to a choice few, the killer was never caught.
Ohio.  Home to a lot of prestigious things.  Unfortunately serial killers are some of them.