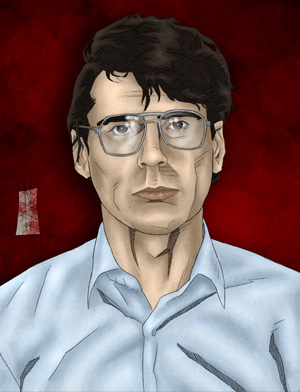 KILLING FOR CONTACT - DENNIS NILSEN

Article BY Charlotte Gledson - Art by NICHOLAS RAIMO
---
Who would have thought a mild mannered Civil Servant who worked at a London Job centre could be capable of such sexual depravity and murder.
 
The UK Jeffery Dahmer, as Dennis Nilsen is now referred, indulged in the perverted need for company by taking advantage of 15 innocent men between December 1978 and February 1983. He murdered, defiled and mutilated their bodies before hiding the body parts in different locations around his house. The necessity for companionship due to the abyss of loneliness and the inner sexual conflicts that enclosed him, turned this unassuming man into a selfish murderous predator.
Dennis Andrew Nilsen was born in Fraserburgh, Scotland on the 23rd November 1945.

His Scottish mother Betty Whyte and Norwegian father Olav Moksheim, who was an alcoholic, divorced when Nilsen was four years old. At this time Nilsen and his siblings were sent away to live with their grandmother. Although he loved his grandmother dearly, Nilsen saw this as a source of rejection. His mother remarried soon after the annulment, but his stepfather, Adam Scott, paid little attention to the young Nilsen.        His Grandmother and Grandfather Andrew and Lily Whyte were strict Presbyterians often expressing and enforcing her opinions about the sins of the flesh.
Her beliefs were devout. She instructed Nilsen in the rigorous teachings of the Presbyterian faith.
A year later, Nilsen moved back with his mother and stepfather and they too lectured him about how sinful it was to crave any sexual desires. Ironically, they went on to have four more children, much to Nilsen's annoyance, thus intensifying his sense of inadequacy.
When Nilsen's beloved grandfather died, his mother insisted that he should view the body; this was the first traumatic experience that fractured the fabric of the young child's mind.
During his adolescent development Nilsen began to crave the intimacy of physical contact. One night he walked into his brother's room whist he was asleep and had the urge to touch his naked exposed chest. He was too afraid to do so, but it was at this point he became confused and felt he may well be homosexual.
In 1961 Nilsen enlisted into the army, where he served 11 years. Here he trained as a cook, visiting many exotic locations and cooking equally exotic recipes.
His fantasies of homosexually came to force. He was a quiet man, keeping a low profile and spoke softly. He avoided confrontation and kept out of people's way.
However, he befriended a young man who was not gay, and they became very close friends. He even let Nilsen photograph him as he 'played dead'.
When alone in his room, Nilsen would lie on his bunk and view his body in the mirror opposite and fantasise of a homosexual relationship. He positioned himself so his head was concealed, so just his body could be viewed.
During his time signed up in the Army, Nilsen would drink heavily. The loneliness and the constant battle with his sexuality engulfed him, thus needing an escape and alcohol was his discharge.
In 1972 he left the forces and trained as a police officer. This was short lived, however he did view an autopsy and this fascinated him. After a brief spell as a security guard, Nilsen felt employment within the forces was not for him.
A year later with a new job as a Recruitment Interviewer at a  Job Centre and living independently in his flat at 195 Melrose Avenue, Cricklewood, NW London, Nilsen showed strains as his demons and longings came to the fore. He befriended a young student and invited him to his flat. Here they drank, chatted, and shared interests. The young boy fell asleep on Nilsen's sofa. As he slept, Nilsen used his camera and photographed him. The student woke up, and they became embroiled in a fight. The student was bruised heavily, but the charges were dropped. The victim was left with psychological damage due to this incident and was even hospitalized, in spite of not prosecuting.
Frustration now was taking over Nilsen's psyche.  He needed a commitment from a willing male lover. Though he engaged in a few gay relationships nothing lasted and he was often left feeling rejected, reminding him of the turbulent relationship with his mother and stepfather.
Being discarded so often angered and infuriated the young Nilsen. The inadequacies and memories of his youth repeatedly reared its ugly head.
In order to fulfil his longings and fantasies, he would study his body in a mirror and imagine his body was his lover.
Envisaging his body as a corpse; excited and enthused Dennis Nilsen. As he played out his ultimate fantasy, he wore pale make up, creating his face and body to resemble a cadaver. He used talcum powder to cover his torso and legs. He would masturbate as he fantasised. His interest in Necrophilia was starting to dominate his thoughts.
Did the memory of seeing his dead grandfather excite him, and this shamed yet excited him at the same time?
In 1975, Nilsen at last befriended a young man named David Gallichan - who later denied that their relationship was homosexual. Gallichan moved into 195 Melrose Avenue, and the two men even bought a Border Collie puppy, who they named Bleep, they also owned two cats. At first all was rosy, but once again, the relationship didn't last and Nilsen threw Gallichan out.
After the parting, Nilsen's loneliness amplified, and a year and a half later, he began his killing spree, releasing his deepest fantasies, unburdening his demons, free to live and love – in the most unnatural of ways - and then dispose with whom he pleased.
On December 30th 1978, Nilsen headed out for a gay bar in London, Nilsen found his first victim; Stephen Dean Holmes who was retuning from a concert. This young boy, unbeknown to Nilsen at the time, was only 14 years of age.
Taking him back to his flat, the two shared a few drinks before jumping into bed. As his new found friend slept, Nilsen began rubbing his hands over his body. Both became aroused. Fearing his friend would leave, Nilsen picked up a necktie from the floor and tied it around his friend's throat, strangling him.
When the boy lost consciousness, Nilsen ran to the kitchen where he filled a bucket with water, he stuck his victim's head into the water to drown him. It didn't take long for the young boy to die. The dead schoolboy was then placed into a chair. Nilsen was in shock as reality hit him. He sat down after making some coffee and contemplated his next move.
Finally he covered the windows and lifted the teenager over his shoulders to take him into the bathroom where he bathed him before taking him back into the bedroom and putting him in bed. Nilsen recalled later that he was not repulsed by the corpse, but thought it looked beautiful.
From a nearby hardware store, Nilsen purchased an electric knife and a large pot, but he could not bring himself to cut the body up. Instead, he dressed the body in clothes. He would then engage in conversation with the corpse, and masturbate as he slept with it.  Eventually he placed the body onto the floor and wrapped it in a curtain. He removed a few floorboards, and thought about trying to hide the body there; however rigor mortis had set in and made this impossible. It wasn't until the next day that Nilsen figured out how to manipulate the stiff body so he could conceal it under the floor. He then covered it up with some boards.
There, the body remained for seven and a half months. Once or twice, Nilsen peeled the floor apart to look at his victim. Once, finding it very dirty, he bathed with the corpse again before placing it back in its resting place. Again he would converse with the cadaver and treat it as though a friend. Finally he built a bonfire in his back garden area and burnt the corpse along with some rubber to mask the scent of burning flesh. The ashes were raked into the ground.
Subsequently, Nilsen lured 12 more young homeless, unemployed men, even young boys to his flat, where he adopted the same method of execution. He nurtured, titivated and engaged in sexual activity with each corpse for days, his fantasies of fornication with dead bodies finally coming to fruition.
Amidst the brutal killings, Nilsen also entrapped other gay prostitutes and homeless men with the intention to kill. He later confessed that when he killed, he became engaged in a killing trance, and sometimes he was able to snap out of it so the victim was set free. The fortunate victims never reported Nilsen to the authorities.
Was this due to their sexual orientation? Were they silenced due to the prejudice and judgmental views of society?
The process of dismembering and disposing the bodies were well planned.  He would strip down to his underwear and bring the corpses onto the kitchen's stone floor. Using a large knife he would cut his victims up. A few times he boiled their heads in the pot that he had acquired after killing his first victim. He claimed that while he spent time in the British Army, he learned how to butcher animals, and he felt his human victims were no different.
The various body parts would then go into a plastic bag, and placed back under the floorboards and different locations around the house until he was ready to take their bodies into the rear garden area to burn their remains. Nilsen claims that children would come to watch his fires. He also says that police came through his house when he reported a burglary, and the two detectives were completely unaware that they were standing just over two dead bodies. This amazed Nilsen.
In November 1981, Nilsen moved to a top floor flat at 23, Cranley Gardens, Muswell Hill, North London in order to curb his murderous way. This was where victim number 13 met his untimely death. John Howlett, struggled and attempted to strangle Nilsen in retaliation, but sadly Howlett succumbed to Nilsen's vicious attack and died, resulting in his remains being flushed down the toilet. He then boiled John's head on the hob, and hid his larger bones either in the garden or at the back of the flat in a tea chest.
It was his 15th and final victim that halted the barrage of murder on the 26th January 1983. Steven Sinclair, a homeless drug addict complied willingly to go back to Nilsen's flat for a meal. Here in a drug induced daze, Nilsen strangled and dismembered his body. But it was Steven's body that was one body too many for the sewage system to cope with, and the other residents at number 23 soon summoned a plumber from Dyno-rod to try to clear the blockage. The sewage technician found what they thought was chicken flesh and fragments of meat bones that were blocking the pipes. On closer inspection, the police were called, murder most horrid had taken place at Muswell Hill.
As DCI Jay entered the flat, he instantly smelt decomposing flesh. Nilsen queried why the police would be interested in his drains, so the officer told him they were filled with human remains.
"Good grief, how awful!" exclaimed Nilsen.
"Don't mess about, where's the rest of the body?" replied Jay.
Nilsen responded calmly by saying they were in two plastic bags in his wardrobe. He was then arrested and cautioned on suspicion of murder and taken to the police station.
Dennis Andrew Nilsen now serves life imprisonment at HMP Full Sutton maximum security prison. In custody, Nilsen willingly admitted everything, even drawing sketches and giving detailed accounts of the events that took place in both flats.
In 2003 he wrote an autobiography entitled The History of a Drowning Boy, but his book was refused publication.
So was it loneliness that led to the killings? Or maybe it was the total dominance from his stringent religious mother and grandmother that instilled within him the rebellious lustful thoughts regarding the human flesh. Homosexuality was the sin of all sins, and Nilsen battled profusely to tame his desires – or did he embrace this to wreak vengeance upon his stern and harsh religious upbringing?
Perhaps due to his disassociation from society and the element of never fitting in, his brewing fantasies within his mentality festered like a cancer inside his mind.
Once his 'friends' were dead, their loving beautiful bodies never answered back, never condemned, never judged. The lovers therefore would never leave and ultimately he gained a sexual power to dominate over the weaker individual.
When left feeling abandoned, rejection can evoke a whirlwind of negative emotions. Though Nilsen was not violently abused by an alcoholic father or mother, sexually abused by a member of his family or even brought up with drugs and alcohol, Dennis Nilsen still felt that ache of defeat, a loss of soul, a loss of personality and a loss of essence. He rebelled against the catholic teachings, he privately embraced his homosexuality, and relished at the thought of being loved 'uniquely' for himself. By having sexual intercourse with his dead victims, he gained a sense of power and dominance, key factors that were lacked in this youth.
His dreams of total acceptance were eroded by time and circumstance.  By murdering his victims, befriending and having sexual relations with the corpses on his terms, he felt empowered, a surge of supremacy and most importantly he felt loved.
Nilsen was motivated by a desire for an unresisting and subservient partner.
His lack of conscience was enforced by his need to be loved thus justifying his actions in the knowledge that to kill an innocent he gained the maximum satisfaction and validation.