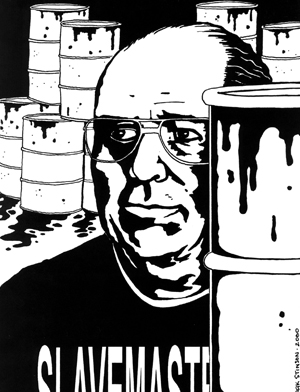 JOHN EDWARD ROBINSON – THE SLAVE MASTER

Article BY CRISTY MCGOFF - Art by MARK STINSON
---
John Edward Robinson was born on December 27, 1943 to Henry and Alberta Robinson, in Cicero, Illinois, a town known for being the home base of Al Capone's business operations.  Robinson was the middle child of four siblings: Henry Junior, Donald, Joanne, and Mary Ellen. His father worked as a machinist for Western Electric, an nine-to-five factory job. Robinson claimed his father was a heavy drinker, but remained a hard-working and law-abiding citizen. According to her son, Alberta Robinson was a stern mother who was in charge of all punishment in the household. She also pushed her children in a positive direction, urging that they be clean, well-dressed and encouraged them to better themselves.    Robinson also recalls, on the other hand, that his mother was also very detached. To the hopeful Alberta,  John was the child with the most potential.
At an early age, Robinson dreamed of being a Priest, and was accepted to Chicago's Quigley Preparatory Seminary for Boys.  The young John Robinson thrived in his early teens as an Boy Scout, and, at thirteen, became the youngest Eagle Scout in his troop. In the Chicago Tribune, it was reported that he lead his troops in a performance for Queen Elizabeth II in England and even went on to meet Judy Garland who gave him a kiss on the cheek.  When he returned home, he continued to work toward the Priesthood, but held on to the memories of being in the spotlight. It was said that he wasn't a particularly strong student, but always seemed to be deep in thought, thinking about what he was going to say or do next in order to get what he wanted. He graduated from Quigley Seminary at seventeen.
John Robinson grew up hearing stories about gangsters in Chicago as well as having claimed to have worked for some of them. As he watched his father struggle with the blue-collar life, drowning himself in alcohol,  Robinson fantasized about easier ways to seek wealth and fame than to make an earnest living, the way he had been raised. He began to seek another career path other than the Priesthood. Perhaps the idea of doing good deeds and helping people appealed to him after his stint in the Boy Scouts or perhaps he wanted to be in a powerful and influential position like a Priest.  Either way, the dream of pursuing a religious career was abandoned.
Robinson went to Junior College and studied to be an X-ray technician. It in unclear whether he completed these studies, but he went on to claim that he was a fully-qualified X-ray technician who had trained at a hospital in Illinois. In 1964, using this background of credentials, he began his professional career in the X-ray department of a Chicago Hospital. At the same time, he met and married his soon-to-be loyal wife, Nancy Jo Lynch. Nancy Jo was pregnant at the time they were wed
After a period of time, Robinson was confronted and accused of embezzlement at this hospital. He avoided jail by paying back what he had taken. He then took up another position at a different hospital. Here, he had a budding reputation of being a ladies man with an active night life at underground S&M clubs. All the time he spent out at night caught up with his work performance, and he was fired. Following that, he took a similar job at another hospital, and this too ended with accusations of stealing thousands of dollars. Again, he was not put in jail, but given three years probation instead. At each of the hospitals, he put up fraudulent certificates in his office, stating non-existent qualifications which tended to impress co-workers as well as assist him in carrying on affairs with female patients.  At the time, he and his growing family were also moving back and forth from Kansas to Illinois.
John Robinson was developing a talent for getting away with things and reading other peoples' weaknesses.  Over the next three years, while on probation, he was again accused of stealing from three employers at consecutive jobs, one who didn't know he was on probation.  Again, he did not serve any jail time, but probation was extended another three years.
John Robinson seemed to most a dedicated family man, but he was tired of working for others, and began to think of ways to make his own income, perhaps by running a business.  In 1971, he formed his own business called Professional Services Association, Inc. and his family moved to Missouri. Just as the business was getting off the ground, his Probation officer discovered he had left the state, so he was sent to jail as punishment. He was back on the street two weeks later, gaining investors to his new company by learning to forge documents. An investor called the authorities on him when they realized something was amiss, and he was sentenced to six months in jail for false representation, securities and mail fraud.  Robinson  was beginning a long history of breaking the law, but continued to find ways of supporting his family in the process. He had managed to stay off the radar since white-collar did not have a reputation of being dangerous at the time. No one may have recognized the possibility that people who were committing them could progress into violent criminal acts, or worse, murder.
After Robinson was released from jail in the early 70's, he continued on with his business ventures and gained quite a few investors, who never saw any profit. Robinson also devised a way of getting Kansas City to recognize all his business achievements. He forged letters to and from various people, including the mayor, and held a luncheon paid for by himself to award himself a plaque for "Man of the Year" from the Kansas City Area Association of Sheltered Workshops, an existing group he had a loose affiliation with. The event hit the papers and it was discovered that it was all organized by John Robinson himself. This also brought to light his criminal background., but this incident  and the negative attention it got him, did little to deter his illegal activities.
Robinson continued to earn money, whether it was his own business or working for a company. While working as an employee manager at Guys Foods, in Missouri, he found a way to funnel money into his own personal account by making up fake employees. He used this money to pay for an apartment to have extramarital affairs. Again he was caught,  sentenced to sixty days and five years probation.
The early 1980's may have been a turning point for John Robinson. It seems that his schemes were getting more elaborate, not just involving financial motivation, but sex and power. Perhaps his interest in the dark side of S&M blended with his curiosity about what it would be like to steal not just money, but someone's life. In 1984, John Robinson hired a nineteen-year old secretary named Paul Godfrey to work for him at another one of his many business, Equi-II. Soon after she was hired, he told her that he needed her to go to a training program in Texas and he would pay for the hotel stay and all other expenses. For this trip, she would need to sign a stack of blank sheets of paper, and provide him with the names of her closest friend and family. He explained that she may be too busy to write to them and that he would send the letters himself. After a few days of her departure, family tried to contact her and had no success. They went to Texas to see her at the hotel, and was told she never checked in.  When her family members returned and confronted Robinson, he provided them with no answers. Another few days later, a letter signed by Paula Godfrey arrived at their house explaining that she was fine, and that she had left town , was alright and that she did not want to see her family. The Godfrey family went to the police, but with no evidence against John Robinson, they chalked it up to a girl who wanted new adventures. The case went nowhere.
John Robinson remained a family man while at home, but continued to have affairs with other women. His wife knew about these affairs and threatened to leave several times, but Robinson did what he had to do to stay with his wife. He also became increasingly more interested in the S&M underground and spent his nights at these clubs.  He also became connected with the International Council of Masters (ICM), an underground S&M association for men interested in the total emotional and physical domination of women. The women were expected to be the masters' slaves. The men wore hooded cloaks and the slaves were handcuffed in locations associated with the clubs. Robinson called himself "Slave master" and would continue to use this name when he learned the workings of the Internet a few years later.
Also in 1984, Robinson devised a scheme to lure young mothers into working for him. He called up local hospitals and claimed that he and some business associates had a philanthropic organization set up to provide occupational training  for six-months to unwed mothers. They would also provide housing and a stipend of $800 monthly. While most of the hospitals called the local authorities wary of his plans, one hospital set him up with a nineteen-year old girl named Lisa Stasi who had a young baby .  Lisa agreed to allow Robinson to set her up with work for his company, Equi-II , another investment company, and was very excited. As soon as she was released into his custody, the plans changed. She was told to sign a stack of blank paper with the names and addresses of her closest friends and family. Again, he explained that these were provided so he could help keep in touch with her family during her busy job training program. Within a few days, Lisa Stasi and her newborn baby had disappeared and no family or friends could reach her. John Robinson ended up selling Lisa's baby girl to his own brother, masked as a legitimate adoption, complete with documents that authenticated the process, most likely created by Robinson himself. Eventually, friends and relatives of Lisa Stasi received letters signed by her saying she was doing well, thankful for being set up with Robinson, that she was working and making a better life for herself and her daughter.
Lisa Stasi's family began to look into their daughter's disappearance and tracked down law enforcement who decided to get involved.  While they were aware of Robinson's background as well as the disappearance of another young woman, Paula Godfrey, they didn't understand what the motivation would be for Robinson. This made it difficult to collect any evidence. When confronted, John Robinson was calm, upbeat and explained that he had worked to help these women, but did not know what had happened to them after his work was finished with them.  The authorities began to think that he was running a prostitution ring and the apartment he claimed to provide to the women he was helping was where they stayed while they worked with him. Robinson was eventually arrested when they were able to gather enough evidence against him for employing women as prostitutes who posed as sex slaves for their clients. He posted bond and was back out on the streets again. 
With the mounting evidence of potentially dangerous criminal activity against him grew, the FBI got involved and began to keep track of Robinson's every move and were able to put him in prison by revoking his probation. He was sentenced to seven years in a Missouri prison and soon after freed on $250,000 bail. He was ordered to report to his probation officer daily and on weekends.  This particular probation officer became one of the principal players in eventually catching up to Robinson by keeping a close eye on him. But, in 1985, Robinson was accused of stealing $50,000 in Arizona as a party in a false condominium sale. The authorities linked this with  another accusation of financial misdeeds and he was sentenced to a potential of six to nineteen years in prison.
Right before his sentence began, John Robinson soon found a young woman named Catherine Clampitt through a want-ad he had placed. Clampitt had recently struggled with substance abuse problems and was looking for a fresh start. He offered her an employment opportunity with him at Equi-II, a job which he said involved a lot of travel. Her family suddenly lost track of her movements and called the police.  They could not find any evidence to arrest Robinson, and Catherine was never seen or heard from again.
John Robinson entered prison in 1987 and quickly learned how to use a computer.  He soon was helping with the maintenance of the computers in the prison and how to write software programs. He used his knowledge to help the prison save money and he was soon admired by the prison staff and fellow inmates. He was also able to gain the admiration of the medical and psychiatric staff. All the people Robinson came into contact with believed he was on the path to rehabilitation and was not a dangerous person.
When he was finally released, in 1994, he ran into Beverly Bonner, the wife of a medical doctor who had seen him in prison.  He talked to her about joining his business, one, he claimed involving travel and excitement. The two of them began an affair, and she split with her husband, thinking that she was off to new life with the man she really loved, a man, who she believed was soon to be divorced. John Robinson had Beverly Bonner sign a stack of blank paper. She was also asked to provide the names of friends and family members to keep in touch with when she was abroad, all the same things that were asked of Paula Godfrey and Lisa Stasi. This was quickly becoming his M.O. Bonner was never seen again. Her family, however, continued to receive letters from her sharing all the joy of her travels overseas. John Robinson also collected the alimony checks that Bonner received from her ex-husband which he arranged to be mailed to a Post office box in her name.
In the 1990's Robinson began to troll for women in internet chat rooms. One of his connections was Sheila Faith, a single mother of a teenage girl with cerebral palsy who required a wheelchair and received Social Security Disability payment monthly of a little over $1000. John Robinson posed as a successful farmer who owned a huge farm and horses, luring Sheila and her daughter to Kansas to live with him. In 1994, they moved out of their home in California and were never seen again. The Social Security payments however, continued over the years, totaling $80,000, re-routed to a post office box owned by John Edward Robinson.
John Robinson became a regular on the internet, spending most of his time on S&M chat rooms meeting women who were interested in relationships within that lifestyle. He also spent time reading local newspapers which carried ads by people looking for long and short-term relationships. Through one of these ads, he met a woman named Alecia Cox. He began to see her regularly and eventually told her that he had found her a wonderful job overseas. She provided her Social Security number to Robinson for the passport and he made the arrangements for her trip. Oddly, the morning that they were supposed to leave, Alecia woke up before Robinson and found he was angry with her and the plans never went through. She believes that his real plan was to kill her, but his plan was disrupted for some reason by the fact that she had woken up before him.
In the mid-nineties, Robinson continued to collect on-line affairs and tried to convince many women to join him in Kansas and other states. He also had drawn up something called a "Slave Contract". By signing this document, Robinson was given full possession of the person's body and mind. He was the Master and she was the Slave. The person was to obey his every order, including how to dress, their habits, and their attitudes.  Punishment was  also anything that the Master wanted to do, however "painful or humiliating", as it stated in the contract. This contract did not seem to prevent women from being interested in him and he had many on-line relationships using this contract. The contract also was so broadly written that women would give him thousands of dollars voluntarily for him to invest.  When the women tried to get their money back or confront him, they soon gave up with the concern that he could tell others about the Slave contract and their private sexual lifestyle on the internet.
Robinson continued to seek out these relationships with women willing to join him in Kansas with promises of job opportunities as well as those willing to sign the Slave Contract. Using the internet S&M sites, he lured a young woman named Izabela Lewicka straight from college at Purdue University to live in a furnished apartment in Kansas and they began a relationship. Using an alias, he filed for a marriage license and they were married. In 1999, she disappeared, but family received an e-mail saying she had gotten married to a successful businessman, she was happy and wanted to be left alone.  With Lewicka, he no longer had to get her to sign a stack of blank paper. He simply hacked into her  e-mail accounts and gained access to all of her personal contacts, using the knowledge he had gained while in prison.
Continuing a now established pattern, in 1999, Robinson met Suzette Trouten in an S&M on-line chat room and offered her a lucrative job with him in Kansas. This job entailed training overseas in Europe, so she provided him with her Social Security number for him to obtain a passport for her. She and her two purebred dogs arrived in Kansas and were put up in a local hotel Robinson was accustomed to using. He had her sign a stack of blank paper and provide the names of all of her family and close friends. Recently Robinson had begun taking explicit pictures of the women he had been with and had graduated to videotaping at the time. He videotaped himself performing sex acts with Suzette Trouten after she had signed the Slave Contract. This videotape would eventually be used in court to convict him of murder.
When Trouten disappeared, Robinson called animal control on two small Pekinese dogs that someone had abandoned near his property. Two volunteers from the shelter recognized these dogs were not abandoned the way they seemed since they were friendly and social and went on to find homes. Suzette Trouten's mother began to receive letters from her daughter, but did not believe that they were authentic and also believed she would never leave her dogs behind.
As John Robinson continued to seek out women through the S&M chat rooms, he began choosing women who were smarter than the vulnerable ones he had usually gone for and these women ended up contacting the police. By this time, one of the hotels Robinson frequented for his affairs was under surveillance by a  police task force and they were monitoring his interactions with the women. Finally, the police and District Attorney were able to make a case against Robinson when they obtained information that he was about to lure a woman and her teenage daughter to come live with him. It was one thing to involve an adult, but when a child became involved, they decided they had act quickly.
Police arrested John Robinson on June 2, 2000. They searched his mobile home where he resided with his wife, Nancy. Police found his collection of computers and many of the tools, equipment  and documents that connected him to the women who had been reported missing through the years to whom he had promised exciting job opportunities. 
John Robinson, however, had another property in eastern Kansas: the sixteen acre farmland he owned with his family. Police discovered two eighty-five gallon barrels, each stuffed with the body of what appeared to be a woman. They also obtained a search warrant for a rented storage space in Kansas, where they discovered three barrels containing three other women. Finally, five of his victims were confirmed: Izabel Lewicka, Suzette Trouten, Beverly Bonner, Sheila Faith and Debbie Faith, Sheila's disabled daughter.  After these victims were discovered, investigators were able to tie John Robinson to the murderers of Lisa Stasi, Catherine Clampitt and Paula Godfrey.  Investigators who worked the two scenes described never having seen or smelled anything as grotesque. It was hard to tell exactly how long some of the bodies had been stowed away.
John Edward Robinson spent decades making a life for himself and his family through criminal activity. He stole thousands of dollars from people who he convinced he was an experienced and highly qualified employee. He conned people into investing their money into one of the many companies he claimed to own. When stealing money wasn't satisfying anymore and he was getting caught doing it, his hunger for power progressed into the need to physically control women with violence. Perhaps all the pleasure he gained as an active member of the S&M community mixed well with his need for domination and success. With the skills of manipulation that he had honed over the course of years, Robinson convinced lonely women to move away from their families to join him in false promises of exciting job opportunities so that he could use them for sex, murder them and steal their money after they were dead. It is also rumored that there may have been more victims of John Robinson that were promised jobs and ended up as prostitutes in the S&M underground.
John Robinson is considered the first serial killer to use modern technology, the internet, to seek out his victims; all this while he maintained a marriage, a family and many ties within his community, none of whom suspected him of anything.  He spent many years getting away with these crimes,  avoiding prison over and over, and convincing people he was a good person, very successfully.  Finally, he got lazy and was caught. He was sentenced to death in 2002, but avoided it by making a plea bargain in exchange for two life sentences without parole by sharing with  prosecutors where the three additional undiscovered bodies were located. He is incarcerated in Kansas.