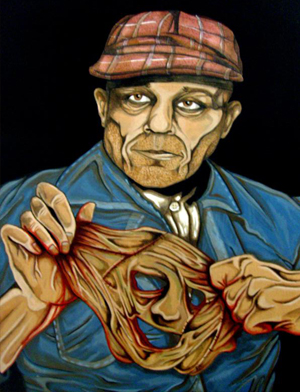 ED GEIN: THE MAN, THE MYTH, THE MOVIES

Article BY ROBERT WARD - Art by CHAD OCONNELL
---
Ed Gein started his way into infamy in 1950's. The disappearance of a bartender named Mary Hogan sparked an investigation that would scare the mid-west and inspire movie writers. Psycho and The Texas Chainsaw Massacre are two of the more famous movies that talked about certain parts of Gein's actions. (That's right kids, despite what you think, The Texas Chainsaw Massacre never happened!)
There have been 2 movies since 2000 that have been made to show "The real story of Ed's life".   One is just a self titled "Ed Gien" that was written by Chuck Parello(2000). The other is "Ed Gein: The Butcher of Plainfield" written by Michael Feifer (2007).
The self titled movie was great, not only did it go into detail about the troubled childhood of Ed, but it shows Ed's slow decline into insanity. Not only is the story very true to the acts, but they also casted very well.   Steve Railsback plays Ed to near perfection, not only with the correct (according to friends and neighbors of Gein's) attitude of a mild manner, very isolated man. His stature rang true to the fairly scrawny killer.  This movie had almost every detail covered (except a couple of minor errors, such as places and timelines). All in all this was a great insight to the life of the man who is recognized as "America's First Serial killer).
The Butcher of Plainfield was ok, and that's being very generous. This movie depicted Ed to be a roughly six foot, 235 pound mad man. Kane Hodder is a very convincing killer, but not this killer. This movie concentrates solely on the last couple of days of Ed's days as a free man. Giving no explanation of why Ed was afraid of his mother, although they do give her some "voice moments" yelling at him and her face appearing on the face of the victim (Mary Hogan). Had I not known the real story, I would've been lost and totally confused by who the hell this woman is. Like I said previously Ed was a small man, this movie is just a way to incorporate the life of Ed into The Texas Chainsaw Massacre, even having a scene where Ed picks up a man and tosses him into a gap of a tree, then smashes his head in.
So, if you want a good movie that shows the real Ed Gein I recommend "Ed Gein" and if you run across an extra 90 min to waste in your life than grab "The Butcher of Plainfield",  But "Be Afraid, Be Very Afraid".