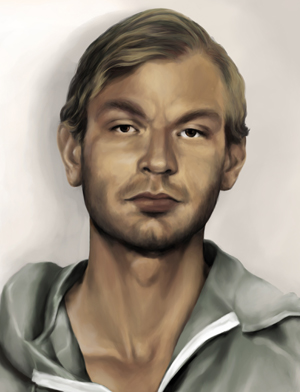 A HISTORY OF CANNIBALISM

Article BY Frederick W. Cook - Art by ROWAN ANDREWS
---
A cannibal, one might say, is the extreme opposite of a vegetarian. Though for a cannibal, vegetarians might be on the menu.  Cannibalism is the act of eating ones own species, generally "human eating human."   The act of cannibalizing has been around since man first walked upright.  There are two classifications of cannibalism that have been practiced; endocannibalism and exocannibalism.
Endocannibalism is the act of eating another human from within ones own tribe, group or culture and generally serves a variety of purposes or reasons, usually involving ritual.  Exocannibalism is the act of eating humans from outside of ones culture, tribe etc…and also includes those who eat corpses of the already deceased.  Most commonly in both forms of cannibalism, eating the same species was not done for nutrition (puuuuuuure protein) and instead held some ritual significance. 
A third classification of cannibalism occurs only under extreme circumstances, famine, survival or mental illness, but has no real title.  This third classification is described by Wikipedia.com, as cannibalism sanctioned by "cultural norm."  It is easiest to find evidence of the third classification of cannibalism throughout history, generally due to famine and food shortages. 
Historically, calling ones neighbor a cannibal was used to almost remove their humanity and allow the accuser the right to kill or enslave the populace.  It has been proven that many of the claims of cannibalism throughout history, have been false and were used for personal gain.  This does not in any way mean that reports of cannibalism were all merely fabricated, as proof has also been found to substantiate cannibalisms practice. 
In Germany along the Hönne, where many of Europe's largest caves were built, 1,891 signs of cannibalism were found, especially in Karhofhöhle cave from around 1000BC – 700AD.  In the years BC 1073-1064 in ancient Egypt, the mighty Nile River didn't flood and the people were made to resort to cannibalism or starvation to survive.  It was widely stated and speculated that during the first crusades cannibalism and crusaders feasting on the flesh of the conquered, occurred numerous times. 
From the spring of 1315 until 1322, Europe was wracked with what is known as the "Great Famine."  Innumerable cases of cannibalism sprang throughout Europe, as millions of people died of starvation and extreme famine.  Many cultures over the millennia have practiced cannibalism; the Aztecs, the Anasazi Indians, 1920's Soviet Russian's, Chinese, early American settlers and serial killers the world over. 
There are few cultures that exist that do not have at least speculative or incidental (Spurts) accounts of cannibalism in their history.  In 1884 some of the first catholic missionaries formed the first Roman Catholic Church in the Solomon Island's and were soon after eaten by the natives there.  (Tastes like HOLY!)
In 1552, Hans Staden was shipwrecked with his small crew of survivors and consequently captured by natives for nine months in Brazil.  Staden's crew was killed and eaten.  However, Staden managed to survive to tell the tale.  Whangaroa in 1809 was the largest mass killing and episode of cannibalism in New Zealand's history, when the Maori took revenge for the whipping of a Maori chief's son aboard a slave ship.  Sixty-six men, women and children were killed and then eaten by the Maori tribes in what's known as the "Boyd Massacre."
In 1816 a French Frigate called "The Medusa," found itself crashing off the coast of Senegal.  140 members of the Medusa's party (crew and passengers) were stranded on a raft for four days at sea, living off of the remains of those who died.   The Medusa crash and following (monstrous Tom Sawyer-esk) raft excursion have been the topic of numerous paintings, poems, plays and movies. 
In the winter of 1846-1847 a group of individuals left independence, Missouri bound for California, but became snow-blind along the Sierra Nevada.  The emigrants in the party resorted to cannibalism to survive.  Those individuals became known as the "Donner party," after the brothers George and Jacob Donner, who alongside their friend James Reed, formed the party with their crew of around thirty hands. 
In February of 1945 the Japanese soldiers Maj. Matoba, Gen. Tachibana, Adm. Mori, Capt. Yoshii, and Dr. Teraki were found guilty and hanged of killing and eating five American airmen.  This was one of the most horrific (and well documented) atrocities against American captive soldiers committed during World War two. 
Another account of cannibalism during WWII comes during the siege of Leningrad.  It's been stated that after consuming all of the pets around them, people began killing other humans for their flesh.  This became such a problem that the Leningrad police formed a special anti-cannibalism division.  (Think Soilent green…)
New York Times reporter William Buehler Seabrook, after a trip to West Africa and meeting with the Guere tribe, became fascinated with cannibalism.  An intern at the Sorbonne procured some meat from a man who was killed in an accident and Seabrook soon got his wish to understand cannibalism a little bit better, he said;
"It was like good, fully developed veal, not young, but not yet beef. It was very definitely like that, and it was not like any other meat I had ever tasted. It was so nearly like good, fully developed veal that I think no person with a palate of ordinary, normal sensitiveness could distinguish it from veal. It was mild, good meat with no other sharply defined or highly characteristic taste such as for instance, goat, high game, and pork have. The steak was slightly tougher than prime veal, a little stringy, but not too tough or stringy to be agreeably edible. The roast, from which I cut and ate a central slice, was tender, and in color, texture, smell as well as taste, strengthened my certainty that of all the meats we habitually know, veal is the one meat to which this meat is accurately comparable."
Now that's a man who likes to bite tooth and nail into his work!
Journalist Neil Davis reported on cannibalism in the nineteen-sixties and seventies during the South East Asian wars.  Cambodian troops ate the livers of those they'd kill or capture as well as those under the Khmer Rouge were forced to cannibalize others out of food rationing and starvation. 
For the sake of space (I could write a book on all of the cases of cannibalism due to famine or by tribes), we'll begin to focus on people and their illegal appetite for you and I. 
Armin Meiwes also known as the "Rotenburg Cannibal" or "Metzgermeister" (The Master Butcher) used the Internet to find and eat a willing victim named Bernd Jürgen Brandes.  Before killing Brandes, Meiwes and his willing body donor attempted to eat Brandes own penis together.  Meiwes then stabbed Brandes several times in the throat, hung him on a meat hook and for ten months kept parts in his freezer and ate upwards of 20kg of Brandes a day! 
Danijel Jakupek Zak a twenty-six year old was arrested and charged with murder and cannibalizing of a five-year-old boy (His fellow schoolmate) and his uncle.  Day's later police arrested Özgür Dengiz (also known as the "Cannibal of Ankara") A Turkish serial killer and cannibal who killed two men, planned to kill another and ate one of his victims.  Cafer Er, one of Dengiz' victims went missing for several days before police found his body at the Mamak dump.  Police said that it was apparent that Er was murdered; mutilated and large chunks of flesh had been removed.
A Danish artist named Marco Evaristti held a diner party and fed his guests agnolotti pasta topped with a meatball made from his own fat, from a liposuction operation held previously.  (Art with a message…and taste.)
Between 1978 and 1991 Jeffrey Lionel Dahmer murdered and ate 17 men and boys in and around the Milwaukee, Wisconsin area.  It was stated that Dahmer was involved in cannibalism, necrophilia and rape and was in the process of setting up a makeshift altar out of skulls and candles.  The single survivor to escape Dahmer's clutches, Tracy Edwards, managed to alert police to Dahmer's apartment, number 213 where they made the grisly findings.
Inside of Dahmer's apartment they found photographs of murder victims, human remains stored in acid vats, severed heads in his refrigerator and at least three human skulls for use in an altar.  Jeffrey Dahmer was murdered alongside another inmate Jesse Anderson, by fellow inmate Christopher Scarver on November 28th, 1994. 
Otis Toole was yet another reputed serial killer cannibal, made famous by his confession in the July 1991 murder of Adam Walsh, son of John Walsh, the child victim advocate and host of the America's most wanted television program.  Of Toole's many claims, beside that his grandmother was a Satanist and his mother a religious fanatic, was that his first murder occurred when he was fourteen years old.  Another popular claim by Toole was that he'd killed hundreds of people for some cult known as "the hand of death," with a friend of his Henry Lee Lucas.
Toole confessed to the kidnapping, rape, murder and dismemberment of Adam Walsh, stating that he'd cut him up and fed him to alligators in a nearby swamp.  Though Toole confessed to the crime, police no longer considered him a suspect after preliminary investigations, John Walsh however still believes that Toole murdered his son.  In all, Toole was charged with two murders and later confessed to four more before cirrhosis of the liver claimed him while serving his sentence. 
Another modern cannibal is Issei Sagawa, who was convicted of killing (Via a gunshot to the neck) and eating Renée Hartevelt.  Mr. Sagawa ate the woman because he wanted her energy, beauty and health, as he described himself as a "weak, ugly and small man."  After a hearty bout of necrophilia with the woman's corpse, Issei Sagawa proceeded to eat her hips and was surprised at the "corn-colored" human fat. 
Mr. Sagawa described his less then mundane meal, as "odorless and soft like tuna."  After his arrest and following deportation from Paris back to Japan, Issei Sagawa served fifteen month's in a mental institution and was then checked out and has been a free man since.  Now living in Tokyo, Japan, Issei Sagawa is a minor celebrity, writing books, appearing on various television and film programs and even working as a restaurant reviewer. 
Edmund Emil Kemper III also known as the "co-ed killer," is another fine example of modern cannibalism by a serial killer.  He was known to have tortured and killed animals and enacted sexual perversions with his sister's dolls all at a very young age.  Kemper's mother locked him in the basement at nights for fear he would rape his sisters and she'd often abuse and berate him due to her suffering from borderline personality disorder. 
In August of 1964, Kemper murdered his grandparents and when asked why, he'd replied, "just wanted to see what it felt like to kill Grandma," he knew his grandfather would be angry and so he killed him as well, all at only fifteen years old.  After his release from Atascadero State Hospital and after several jobs, Kemper was at it again starting in May of 1972. 
From May 72, until February 73, Kemper picked up several female hitchhikers, murdered them, brought them back to his apartment, then after a little necrophilia, dumped or buried the bodies in ravines.  In April 1973 he murdered and mutilated his mother and her best friend, throwing his mothers vocals chords into the garbage disposal.  The disposal couldn't penetrate the thick tissues and the vocals chords ended up back in the sink.
After turning himself in to authorities, Kemper said, "That seemed appropriate…as much as she'd bitched and screamed and yelled at me over so many years."  In all Edmund Kemper III claimed ten lives and confessed unrepentantly to murder, necrophilia and cannibalism to the courts and still serves a life sentence in Vacaville state prison.
South Korean Yoo Young-Chul, murdered, mutilated and burned twenty-one people, mainly prostitutes and wealthy elderly individuals.  Yoo Young-Chul admitted to eating the livers of several of his victims.  When asked why he killed, he replied, "Women shouldn't be sluts, and the rich should know what they've done."  Yoo Young-Chul was sentenced and put to death on June 19th 2005. 
José Luis Calva Zepeda was an author, a confessed serial killer and cannibal in up to eight separate cases of murder.  Under suspicion for disappearance of his girlfriend Alejandra Galeana, the Federal Preventative Police stormed Calva's house and found him eating human flesh.  Upon further inspection of Calva's home, investigators found a myriad of the macabre ranging from his girlfriends mutilated corpse, man beef in the fridge and a box of cereal with bones in it. 
Mexico was forced to take down the sign "500 years without cannibalism and counting," and had to start all over.  December 11th 2007, Calva hung himself in his cell with a belt (possibly old Navy?) between 6:00am and 6:30am. 
Convicted of eight murders, confessed to thirteen including cannibalization and mutilation, the "Ruhr Cannibal," "The Duisberg man-eater,"…Joachim Kroll.  Kroll's spree began in 1955 and ended in 1976, throughout Kroll favoring the rape and strangulation method (in no particular order).  When Joachim Kroll was arrested on July 3rd, 1976, police found the body of a four-year old girl cut into parts, parts of the girl were in the refrigerator, her hand in a pot of boiling water and intestines were in a waste pipe. 
When Kroll was asked why he'd eaten his victims, he'd replied to save on grocery bills (Option for the economy and food shortages?).  After a 151-day trial, Kroll was given nine life sentences and in 1991, he'd died of a massive heart attack while serving his time in prison of Rheinbach. 
Richard Chase is another noted cannibal serial killer, who in the span of one month, killed and ate six Californian's.  Sometimes known as "The vampire of Sacramento" because he drank his victim's blood and ate their remains, Chase was a delusional being.  Chase was fond of torturing and disemboweling animals, as well as eating them sushi style a.k.a raw. 
Chase was referred to as "Dracula" by the staff of a mental institution that he'd been involuntarily committed to.  A healthy dose of the woo woo juice in the mental hospital and Chase was released to his then divorced parents, who got him his own apartment.  Chase rampaged through California killing and cannibalizing along the way and both humans and animals were on the menu.  Chase was convicted on six counts of first-degree murder and sentenced to die in the gas chamber. 
Richard Chase committed suicide on December 26, 1980 in his cell, with an overdose of prescription antidepressants.  Before killing himself, Chase granted a series of entertaining interviews with Robert Ressler, talking about Nazi's, UFO's and radar guns…oh my. 
Marc Sappington killed four people and ate a part of one of his victim's leg.  A known schizophrenic and under the influence of PCP, Sappington said voices told him to kill, eat flesh and drink blood or he'd die.  Sappington killed two of his four victims in the same day and soon became known as the "Kansas City vampire."  It was said that blood and gore was everywhere in Sappington's mother's basement, imagine having to clean that mess.   Sappington is currently serving four consecutive life sentences for his crimes.
The list goes on and on of cannibals past and present, and cannibals in popular media are just reaching their height of popularity.  Everything from "Silence of the lambs" and "Ravenous," to the highly successful "Sweeney Todd" shows that cannibals are the new proverbial "vampire" of pop culture. 
Humans have been eating humans since…well humans have been around!  A mild form of cannibalism is practiced during mass, in love bites with a girl or boyfriend, in French kissing, in bloodletting and sharing etc.  For good or for bad, for terror, lust, study or entertainment, cannibals and cannibalism has and will continue to be a part of humanity. 
Top five ways to protect yourself from a cannibal attack:
5. Learn to run faster!  Cannibals hate fast food it goes right to their thighs.
4. Don't look tasty!  Even the slightest garnish might set a cannibal off.
3. Don't drive with a cannibal!  Canned food is still on the menu.
2. Don't glisten in the sun! (Watch your sun block and oils people) Glazed food is more appealing.
1. It's always the quiet neighbor it seems, so stick to and around loud people!
Cannibal recipes:
(Not real recipes, for laughs only)
"Beef ala Bill"       

Needed:
1 lb lean butt/flank portion Human steak
1 Tablespoon of fresh Oregano
1 half stick of butter
1 cup diced onions
1 cup diced green onion
1 teaspoon of rosemary
1 teaspoon of lemon juice
1 dash of sea salt
1 dash of freshly ground pepper
1 cup of purified water
2 tablespoons of victim's blood

Instructions:
Lightly brown the steak inside of a large open skillet using a lot of butter, DO NOT OVERCOOK.  This initial skillet use is to kill bacteria (yes, more killing) and not to fully cook the meat.  Prepare a mixture of the water, blood, oregano, butter from skillet, onions, green onion, rosemary, lemon juice, sea salt and pepper and stir thoroughly.  Pour the mixture over the meat and let it sit, covered in plastic wrap, inside of a refrigerator for three hours.
Preheat your oven to 350 degrees, then pour the remainder of the mixture and place the meat in the center of a saucepan.  Let it cook on the center rack in the oven for one hour, basting the meat in the juices every twenty minutes.  Serve over a bed of lettuce or in the center of your favorite leafy garnishing.  The perfect wine accompaniment is Red - Sterling Vintner's Collection Cabernet.
"Joe strip salad"
Needed:
1 six-ounce portion of lean cut human beef cut into strips
1 tablespoon of minced garlic
1 tablespoon of sea salt
1 tablespoon of freshly ground pepper
Lettuce
Tomatoes
1 half of a chopped cucumber
1 cup of balsamic vinaigrette salad dressing
1 cup of grated Parmesan cheese
1 cup of Italian seasoned croutons
Instructions:
Preheat your oven to 425 degrees, sprinkle garlic, salt and pepper over the steak on both sides.  Place the meat in a non-stick, over safe sauté pan and cook for twenty-five minutes on each side, flipping the meat once.  Place the lettuce, tomatoes, cucumber and croutons in a bowl and toss the salad together.  Cover the salad in the balsamic vinaigrette dressing and sprinkle the Parmesan cheese atop. Finally, lay the strips of meat in the center of the salad and viola!  Serve with a fine Chianti.